Reading Time:
4
minutes
 A  couple of days ago, Tummoc reached 50,000 Users. As we cross this milestone, we'd like to take you through our journey so far! (And also let you in on what's to come)

Once Upon A Time, Bykerr was Born
Back in 2016, two of our co-founders, Hiranmay and Monalisha were working in sales. While travelling around the country for work, they realised something. They realised that India has such a well-connected and widespread public transportation system. Yet, so many of us would rather depend on other options.
After giving it more thought, this husband and wife duo decided to do something about it. Having a background in sales, they didn't know too much about technology and its application. That's where Narayan came into the picture. The trio recognised that with technology, they could address this problem. The plan was to provide a solution for short-distance travel to and from bus, train & metro stations. This would help people connect to public transportation. And Bykerr was born. 
Bykerr allowed users to book bikes and autos for their first and last mile. Thus, solving the problem of first & last-mile connectivity. 
From 2016 to 2019, Team Bykerr was busy around-the-clock. The groundwork was being laid. Creating an MVP, getting the first 1000 users, carrying out Alpha and Beta testing. Then, acquiring grants and gaining new market access. Establishing Collaborations with Government State Transport Units, Mobility Foundations & Research Institutes. In the long run, the objective was to create a public transportation information platform. That would give users a complete commute solution.
Then, in 2020, the pandemic hit. The whole world was faced by lockdowns, travel restrictions, and a completely new normal. Our co-founders took a step back and asked themselves — Why not do it the other way around? Why not focus on our main goal first and add first and last-mile connectivity later? So, they took the call of rebranding Bykerr with a focus on public transport information.
A New Alias, A New Beginning
Narayan, Monalisha and Hiranmay decided to change the name of the app. 'Bykerr' didn't portray what they were. So, they put on their thinking caps. They knew for sure the name had to play with the word 'commute'. After a lot of brainstorming, it hit them! They took the word commute and reversed it. And Tummoc was born! It was the perfect name because it aligned with their goals. What they wanted to do was reverse the decline of public transportation use. 
So, in the midst of the pandemic, Bykerr was rebranded into Tummoc. By July, the entire platform was ready. However, due to the covid situation, people were mostly staying home. So, instead of launching it right away, they decided to work on it some more till things settled. In September '20, Tummoc's first patent for multi-modal connectivity was filed. They kept at it, waiting for some sense of normalcy to return. 
As things started opening up, in January 2021, Tummoc was officially launched. Within the first month, we had about 5000 users. Now, five months later, we've reached 50000 users. Of course, we're elated, but we're also ready to start working towards the next milestone!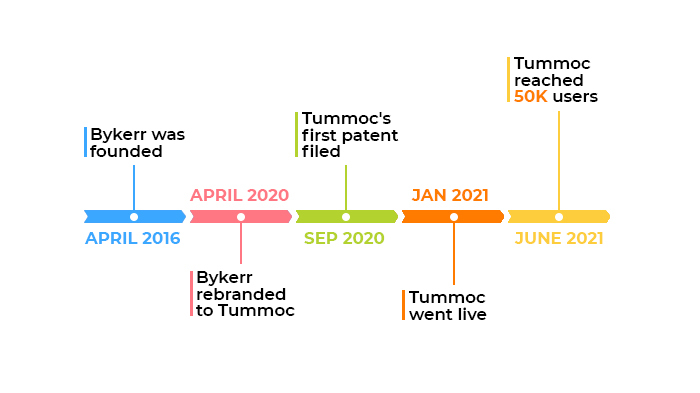 Everyday, we're working on making Tummoc better for our users. As of now, users can get bus & metro timings, routes & more. You can also plan your commute with ease right from start to end. Our Mode-o-Meter is there to help you get a quick idea of your entire commute. We've also tied up with Isha Foundation's Cauvery Calling project to encourage carbon saving!
We also have other achievements under our belt:
1. STAMP 2018 Winner – Toyota Mobility Foundation, WRI, HMRL-L&T Metro
2. Elevate Winners 2018 – Karnataka Govt (ITBT Ministry)
3. National Startup Award 2020 – Finalists (Govt of India – Startup India)
Coming Soon to the Tummoc App
1. Soon, you'll be able to access Bangalore Airport Rail info on the app. The commute is much shorter and hassle-free — so, stay tuned!
2. We're integrating Uber for first and last mile connectivity so that users can book Uber cabs and autos directly on Tummoc..
3. We're working on adding intra-city rail info for Bangalore, Hyderabad, Kolkata, Mumbai, Delhi, Chennai and Kochi.
4. Along with the local trains, we're also working on integrating Trams for our Kolkata users.
5. Single Ticketing! For the first time in India, you'll be able to pay once for your entire commute, from beginning to end across different modes. A one-of-its-kind feature!
6. You'll also be able to track buses in real-time. That way, planning your commute becomes far simpler.
7. An interactive platform on the Tummoc App for users to ask questions & contribute! That way we can ensure to always have the most accurate information. We're also planning on incentivizing all user contributions!
We've gone through quite a journey to get here. There have been ups and downs as there are with any startup. The pandemic has been our biggest challenge, and we're still working around it. In the midst of lockdowns and panic everywhere, we still managed to achieve so much. We're grateful to our team, well-wishers, investors and of course, all 50K Tummocers!
If you're not one of our 50K users, then go and download the Tummoc App now!