Reading Time:
3
minutes
Hello, Bangalore! Do you have a flight to catch? Or do you work at the airport? We have a beautiful airport that has all the amenities that you can think of, but boy is it far away! If you stay in Electronic City or in the far end of Bannerghatta Road, you have to travel about 50km to get to the airport!
Whether you live in Electronic City or in Kammanahalli, cabs to the Bangalore Airport can be heavy on the pocket! Don't worry, though — here are some pocket-friendly alternatives to cabs:
Vayu Vajra – Airport Shuttle Service in Bangalore
Vayu Vajra is a public transportation service offered by the Bangalore Metropolitan Transport Corporation (BMTC). These air-conditioned Volvos give you a comfortable commute to the airport, all under Rs 350. The highest fare of Rs 350 is for a journey covering almost 72 kilometers between Chandapura and KIA. The very same journey would cost you 3-5 times that amount by cab!
If you're traveling from the airport, follow the signs pointing to the airport shuttle bus stand. If you're traveling to the airport, head out a little early so you can accommodate for any wait-time or unprecedented delays. Better safe than sorry, right? Either way, make sure you use the Tummoc App to check which bus number to catch!
There are 10 different routes that these airport shuttle buses offer, covering most areas in Bangalore, far and near. So, no matter where you stay in the city, you'll be able to use this airport shuttle!
Note: Currently, due to the pandemic, the BMTC is running limited Vayu Vajra buses. 
Suburban Trains to the Bangalore Airport
 Earlier this year, the Indian Railways and Kempegowda International Airport (KIA) inaugurated a new KIAL Halt Station. This allows passengers to travel to & from the airport via train!
These trains allow you to avoid hectic Bangalore traffic, and reach the airport in less than an hour! You can catch the airport trains from:
1. Bangalore City station or Krantivira Sangolli Rayanna (KSR) railway station
2. Bangalore Cantonment station (BNC)
3. Yeshwantpur (YPR) station
4. Devanahalli (DHL) station
5. Yelahanka (YNK) station.
Wouldn't it be great to have easy access to all information about these trains as well as how to get to your nearest station? Coming soon to the Tummoc app!

These trains operate Monday through Saturday. They aren't available on Sundays. The airport authorities offer free transit services between the halt station and the airport. You can even find your flight information at the halt station.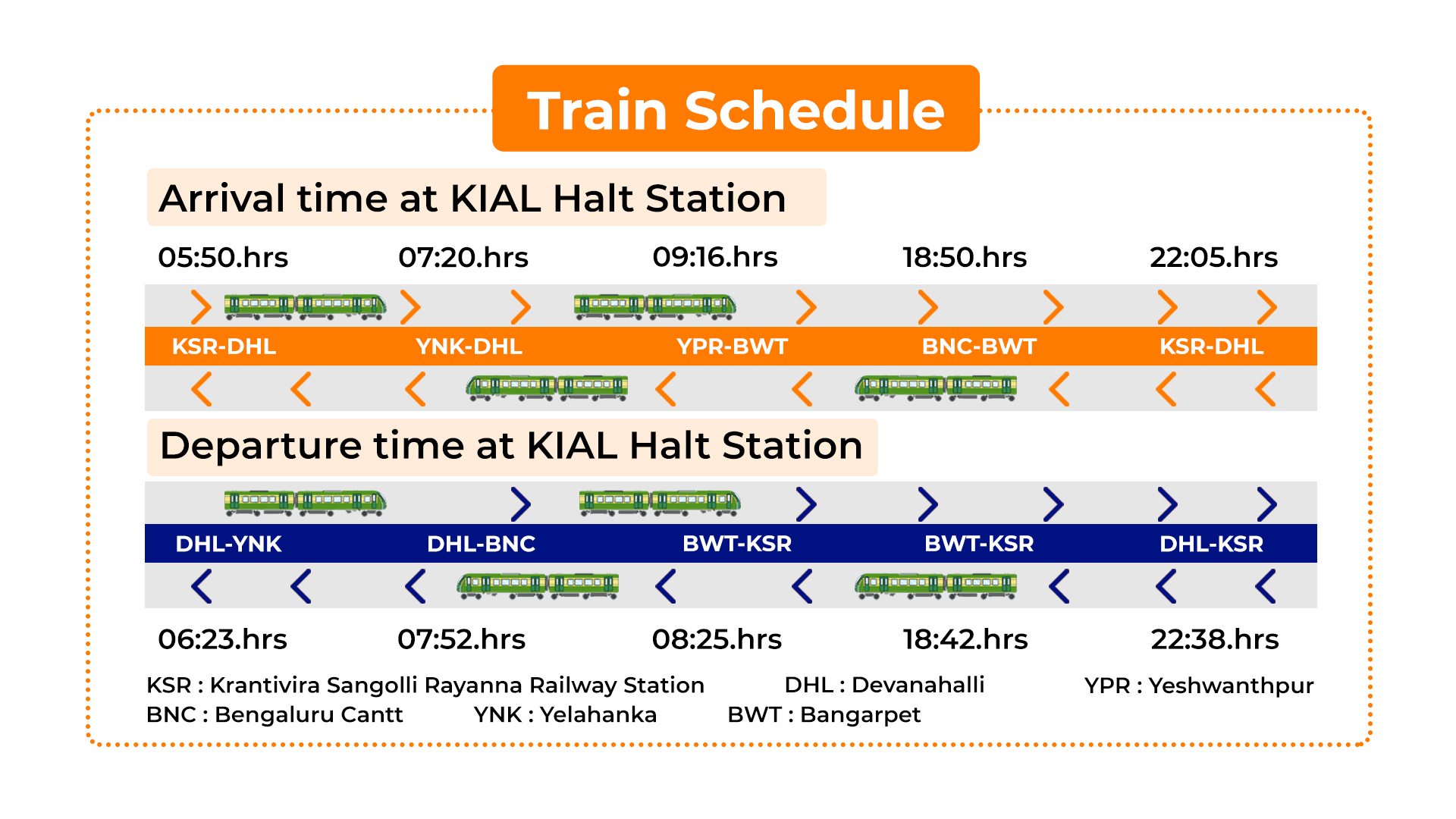 Source: Bangalore Airport Website
Railway Minister Piyush Goyal told Deccan Herald, "This will go a long way in enhancing last-mile connectivity to Bengaluru airport, (it will) benefit lakhs of people and reduce the traffic congestion drastically."
Other than helping you avoid Bangalore's busy traffic, these trains are also extremely pocket-friendly. A one-way journey will cost you under 20 rupees!

Unfortunately, these airport trains have been temporarily discontinued at the moment.

Next time you're heading to the airport, just hop on to the Tummoc App, and find all the information you need! Whether it's your nearest Vayu Vajra bus stop, train timings, prices or how to get there — we've got you covered.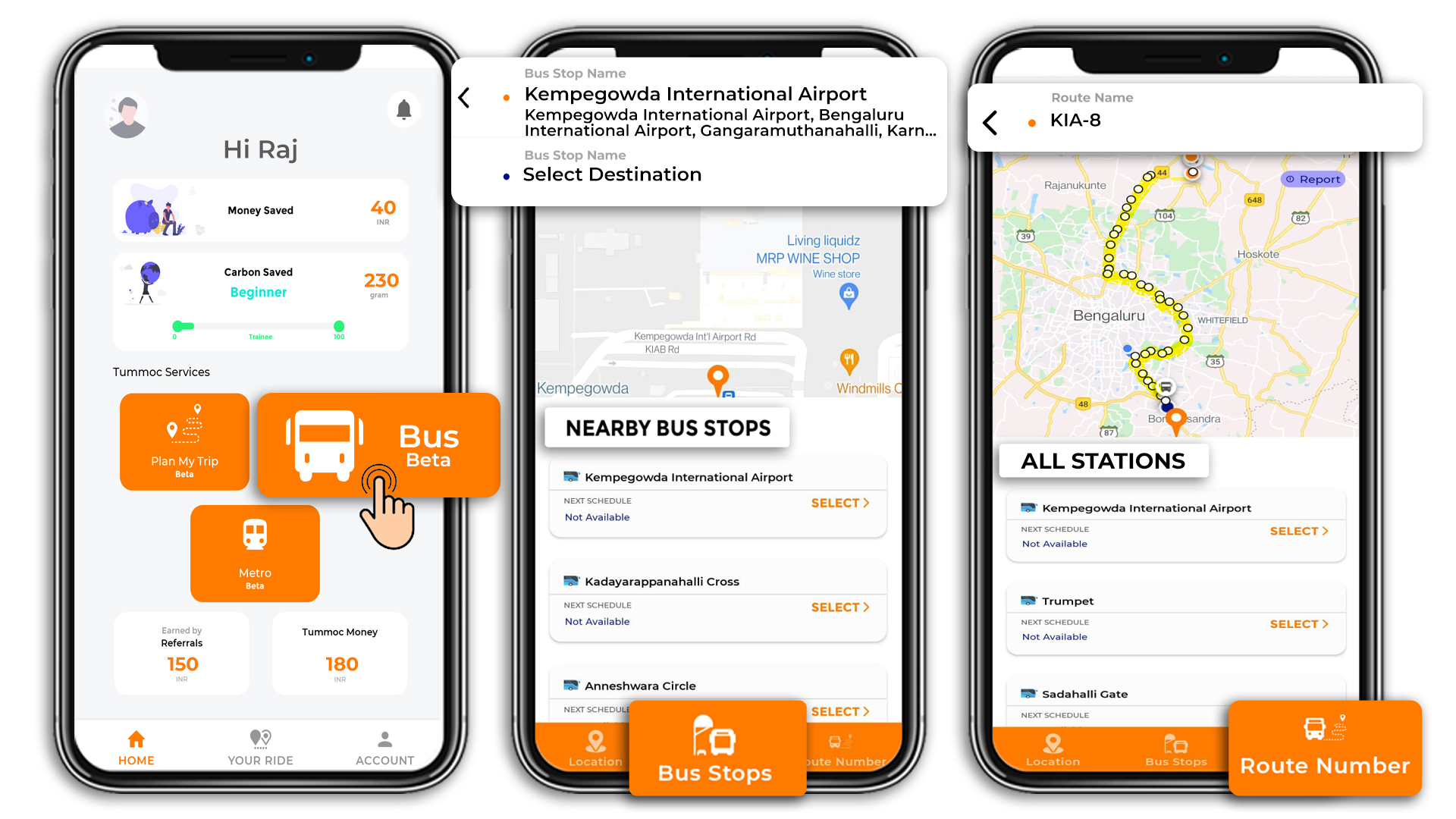 How to Find Accurate Bus Information on the Tummoc App
We also have a feature called "Plan My Trip" which allows you to plan your commute from start to end!
Very soon, you'll even be able to track buses on the app in real-time!

What other features would you like to see on the Tummoc App? Let us know in the comments below!

Download the Tummoc App — Available on Android & iOS