Reading Time:
3
minutes
India's very first metro line was built in Kolkata almost 40 years ago! As the metro network in the city continues to grow, there's a growing need for access to accurate information. When you're heading out, you look for train timings, fares, or maybe the nearest station to you. That's where Tummoc comes into the picture! 
Tummoc gives you access to Kolkata Metro information. You can find metro stations, plan our metro commutes, and even book your ride to and from the metro station!

Here's How You Can Find Kolkata Metro Information on Tummoc:
Start by opening up the Tummoc app.
Don't have the app yet? Download it here!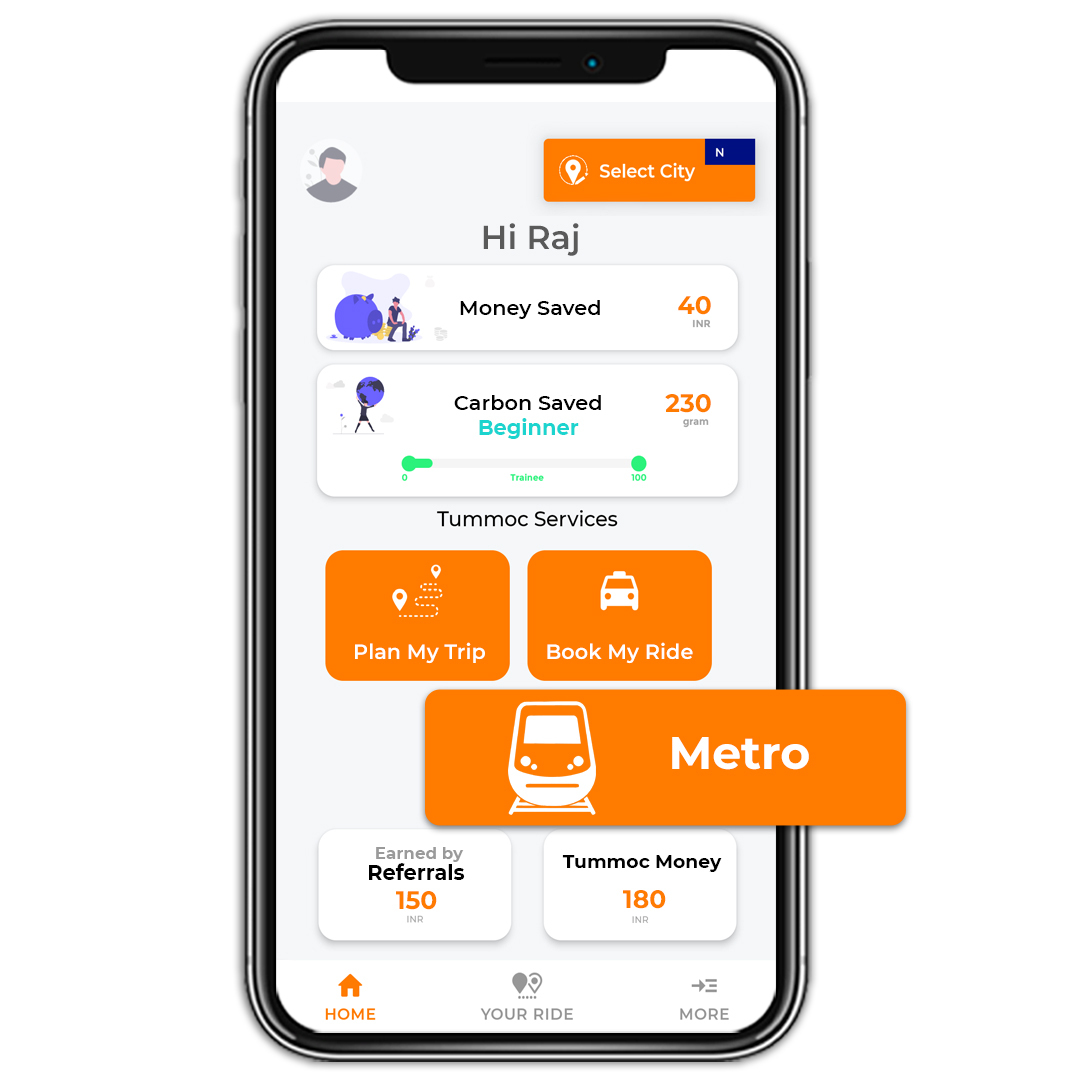 On the home screen, you'll see three buttons — "Plan My Trip". "Book My Ride" and "Metro". Tap on the "Metro" button. 
Once you do that, you'll be redirected to the metro search feature. You can now search for Metro routes and stations based on: 
Location — Find a metro route based on your commute origin and destination. 

Nearby Metro — Find the Metro station closest to you. 

Lines — Find metro stations based on the line that they're on.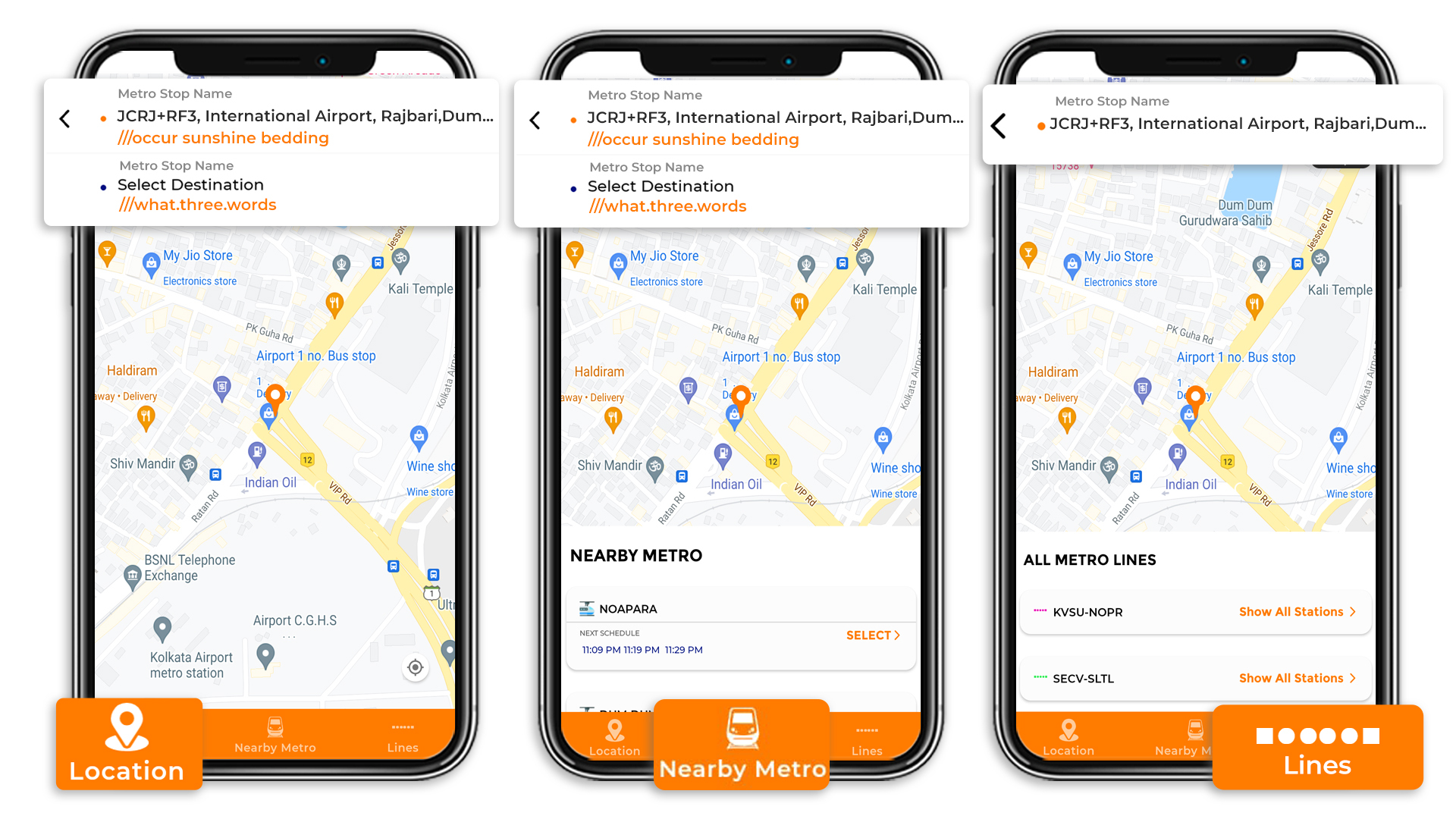 If you're a new Tummocer, this will be a good time to understand how the Mode-O-Meter works. It's a feature you'll see every time you're looking for Public Transport information or planning your commute.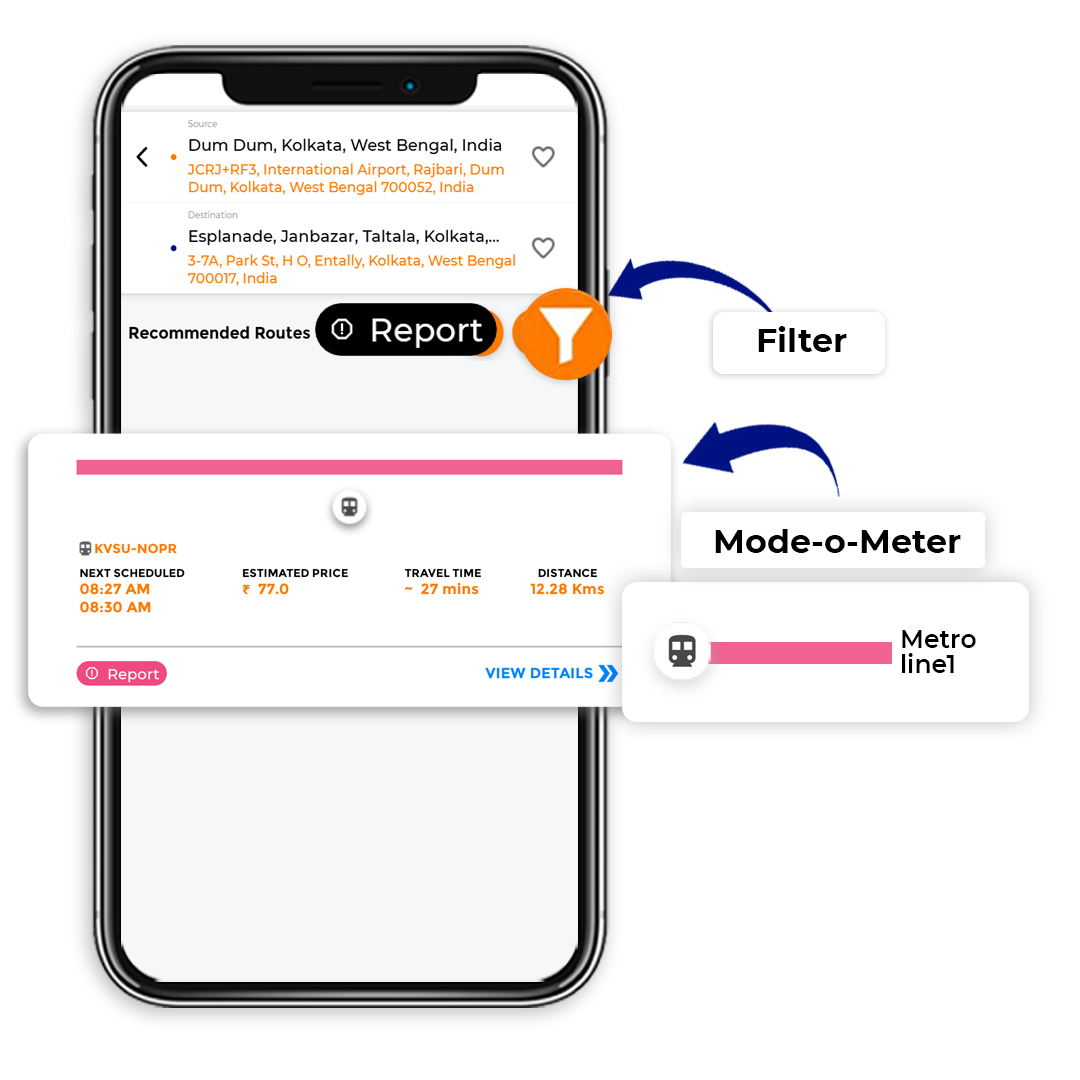 How to Find Kolkata Metro Stations & Routes Based on Your Location
Start by putting in your source and destination. 
We've collaborated with what3words to ensure accurate location mapping. 
In the image below, we've chosen the International Airport as our source and Belgachia as our destination. 
This route has one commute option using the Kolkata Metro. 
You may see more options depending on the location you've entered. 
Tap on an option to get more details of that commute.

Once you go through all your options, pick the one that's most convenient for you.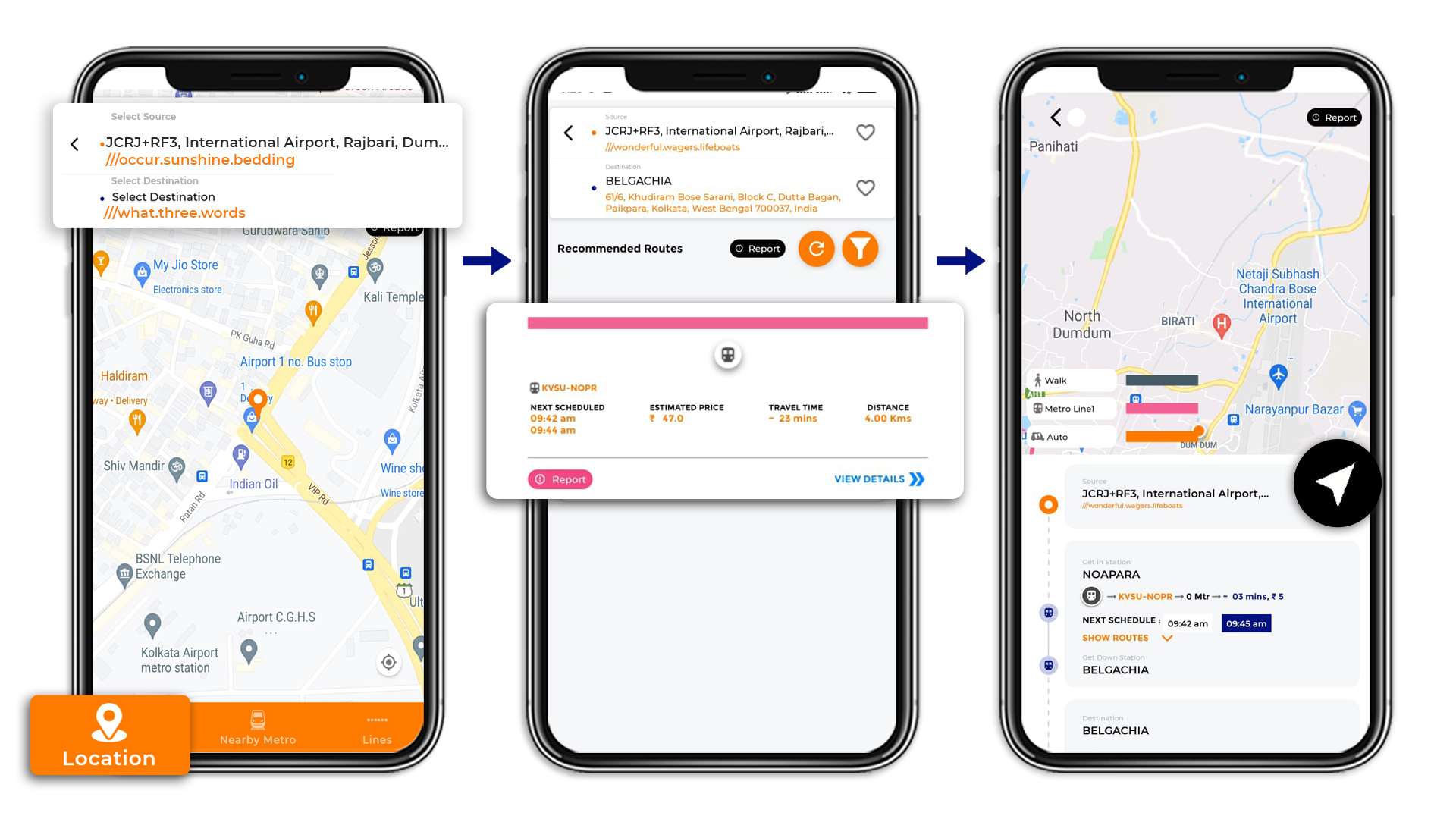 How to Find Kolkata Metro Stations & Routes Based on Nearby Metros
Once you tap on this option, you'll automatically see a list of nearby metro stations at the bottom of your screen. Alongside them, you'll see the timings of the next three scheduled trains from each station. 
If you're looking for a specific metro station, you can go ahead and input your source metro station and a destination metro station. 
In the image below, we've entered Dum Dum as the source, and Esplanade, Janbazar as the destination.
You'll then see two options displayed on your screen. Tap on each option to see a detailed view of the commute. In the detailed view, you'll be able to navigate to your first destination and get a complete mapped-out version of your metro commute.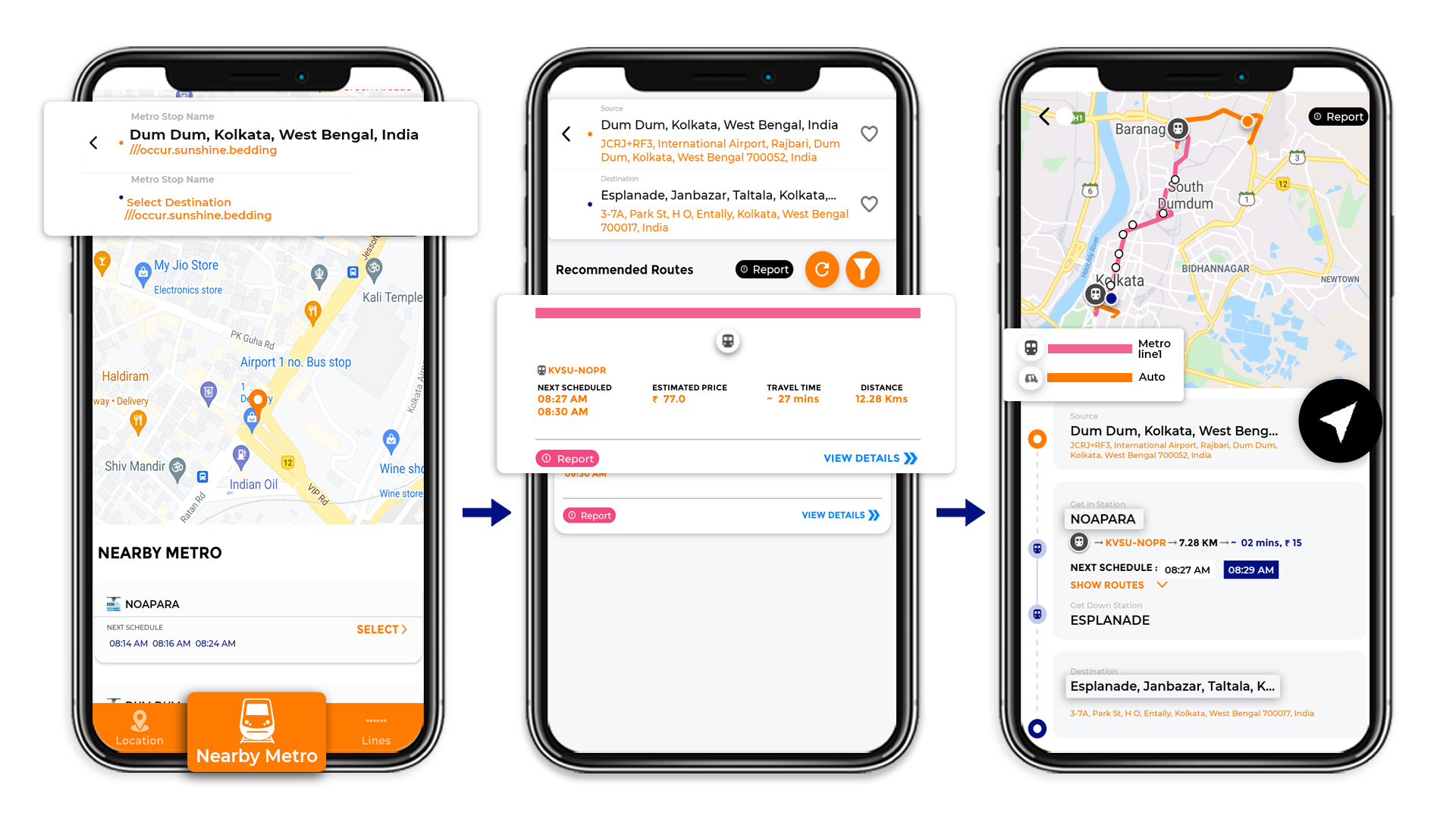 How to Find Metro Stations Based on the Metro Line
By default, you'll find a list of Kolkata's metro lines at the bottom of your screen. You can tap on any of these to access all the stations on a line and their schedules.

The other way of doing it is to enter the metro station name at the top of your screen.  
As seen below, we've chosen Dum Dum Junction.

You will then be shown a list of destination metro stations to choose from.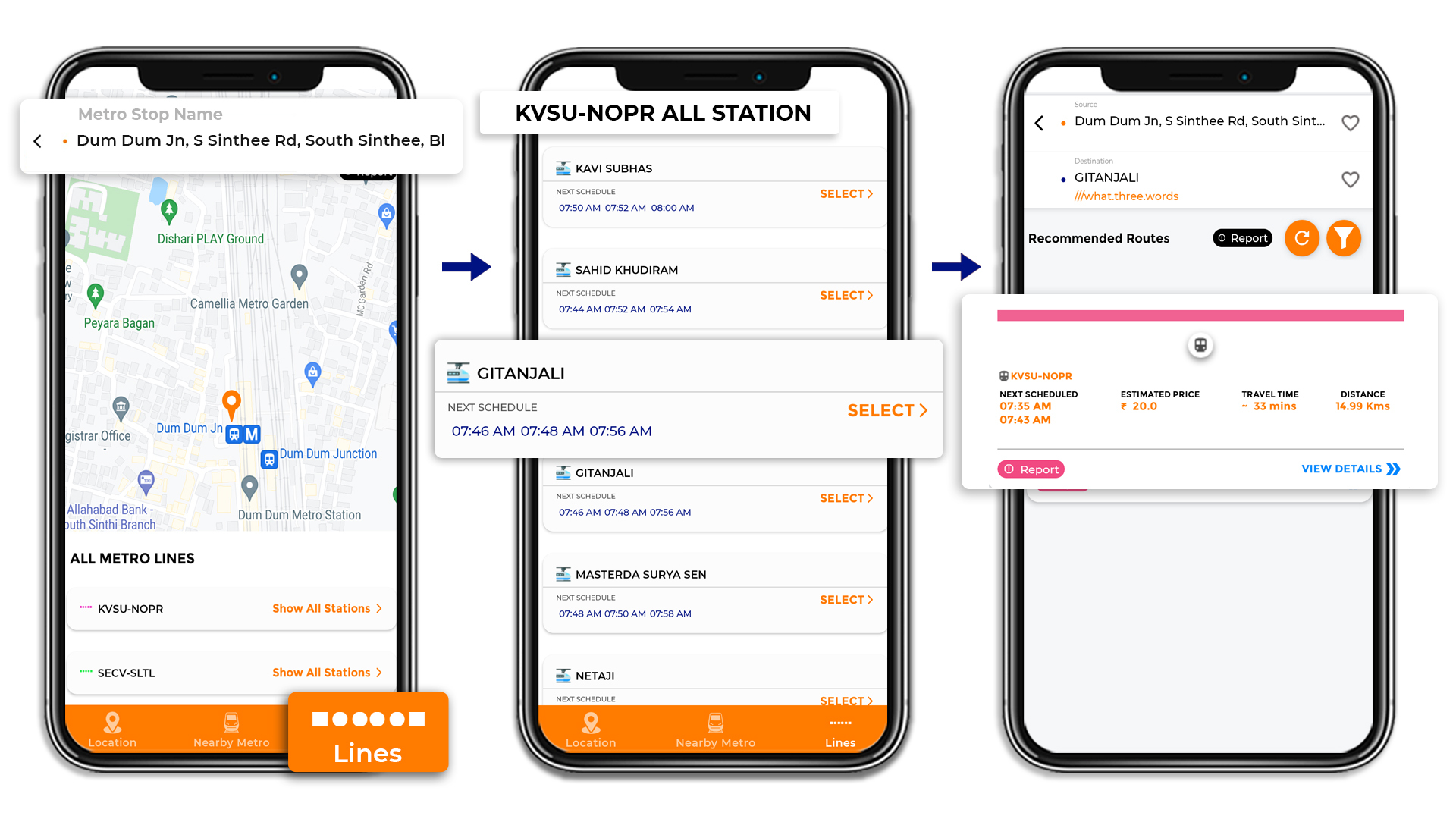 Yes, it's that simple to access accurate information for the Kolkata Metro. 
To make your commute easier than it's ever been, just download Tummoc!
Happy Commuting, Stay Safe!