Reading Time:
4
minutes
Bangalore's metro is still a work-in-progress, but it's already pretty well connected! The purple line goes right from Baiyappanahalli on one end to Mysore Road on the other. And the green line stretches from Nagasandra to Silk Institute. Many Bangaloreans use the metro on a daily basis and save so much time in the process. However, a lot of people still find it inconvenient mainly due to a lack of information & difficulty in last-mile connectivity.
That's what we're here for! Tummoc gives you all the public transport information you need for an easier commute!
How can you find Metro timings, routes & more on the Tummoc app?
The first thing you need to do is open up the app. 
If you don't already have it, you can download it here!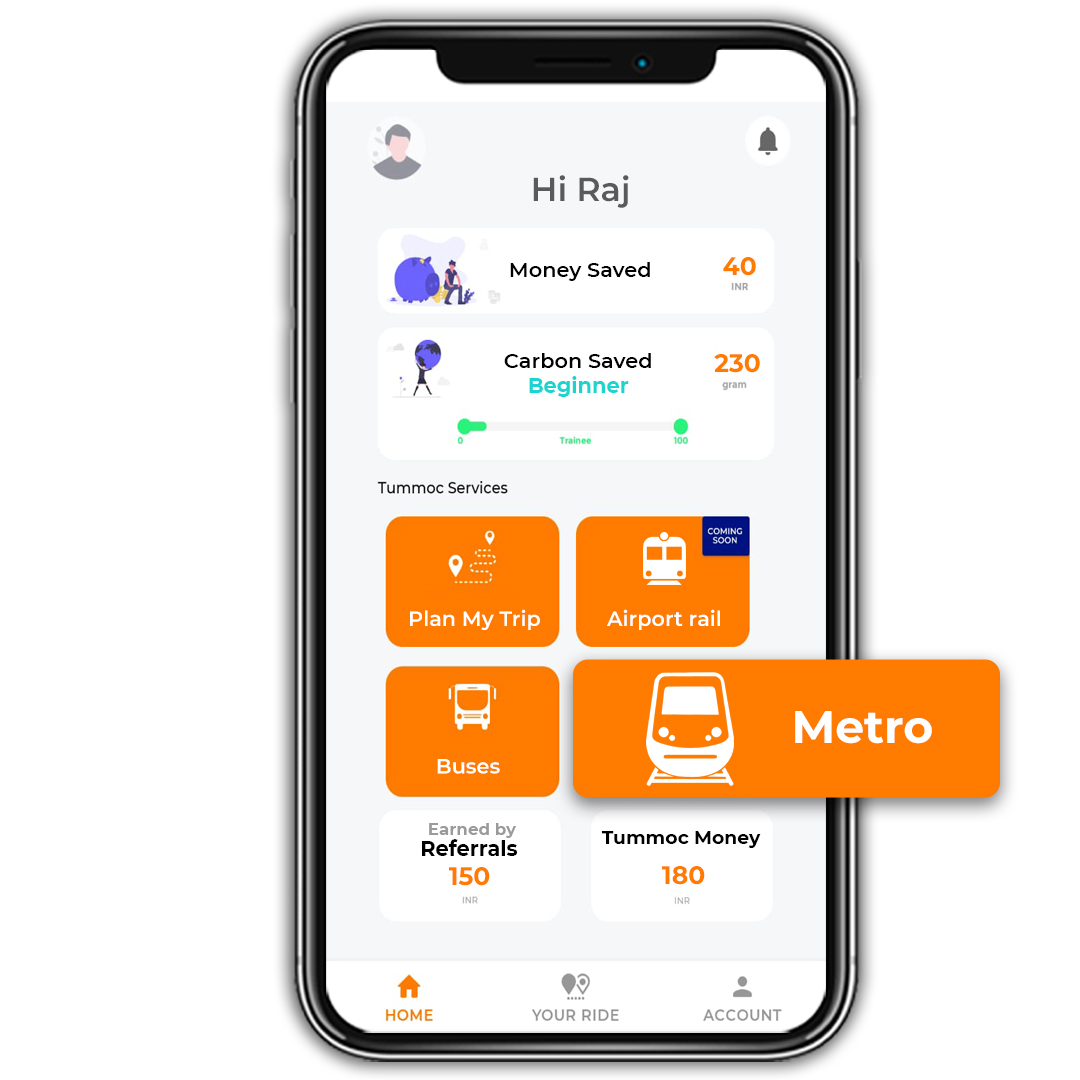 Next, click on the "Metro" button. 
Now, look at the bottom of your screen. You'll see three buttons. You can search for metro information based on:
1. Location — Search for metros on your route based on your origin and destination.
2. Nearby Metro — Search for a Namma Metro station near you.
3. Lines — Search based on the metro line, i.e. the purple line or green line of Bangalore's metro.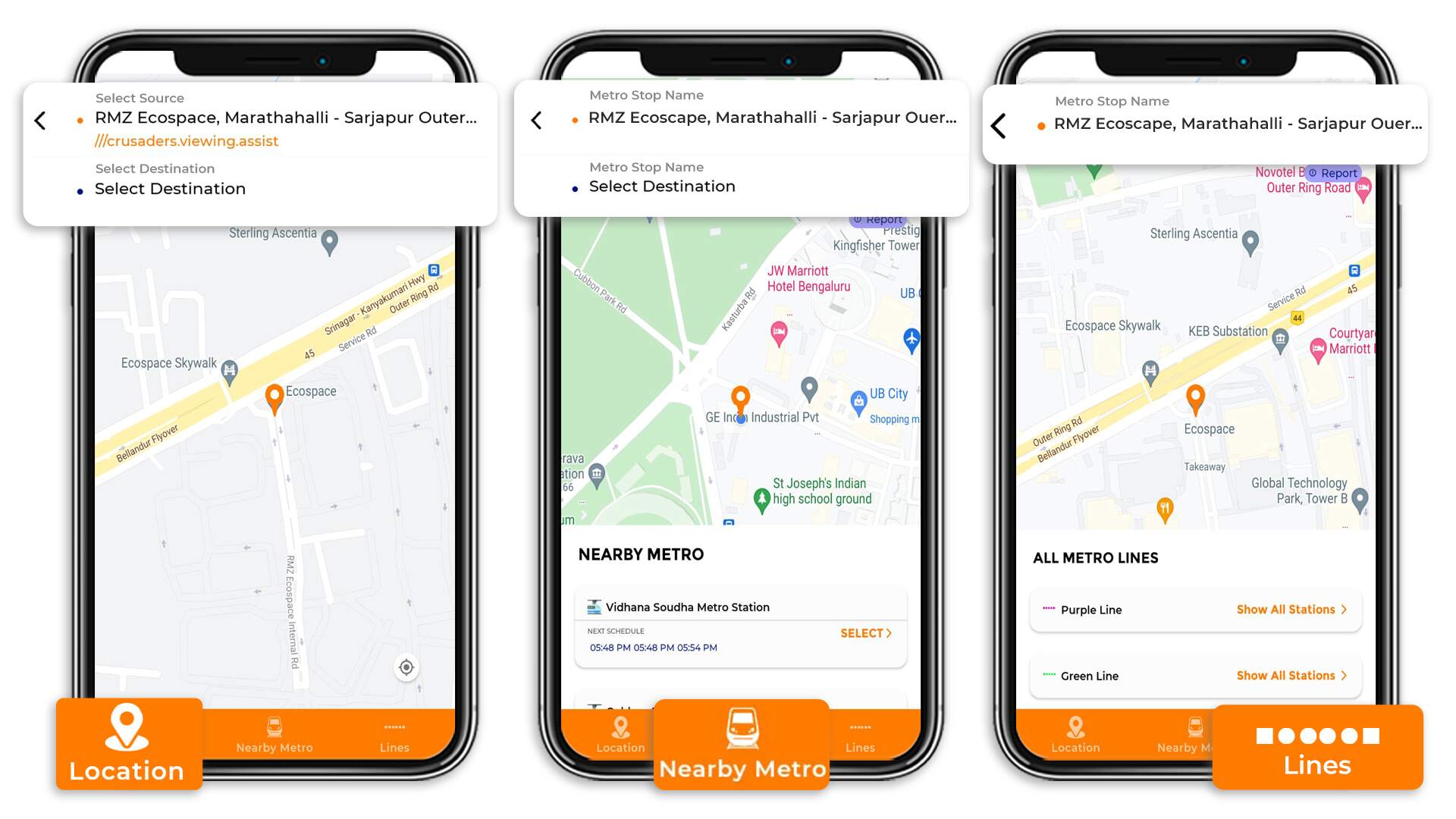 Before we dive into these three options, here's a quick beginner's guide to Tummoc:
When searching for buses & metros or planning your commute, Tummoc gives you different route options to choose from. By default, the fastest route will show on top. You can tap on the filter button to sort your routes by cost or number of transits. 
Each of these options shows you a quick view of the entire route. The Mode-o-Meter gives you a breakdown of the different modes used on a route. You'll also see the next scheduled metro, estimated cost, travel time & distance covered.
In the image below, you'll also notice a 'report' button. Use this button to report any discrepancies in the information we give you. Providing accurate information to our users is a top priority. We do appreciate it when you give us feedback.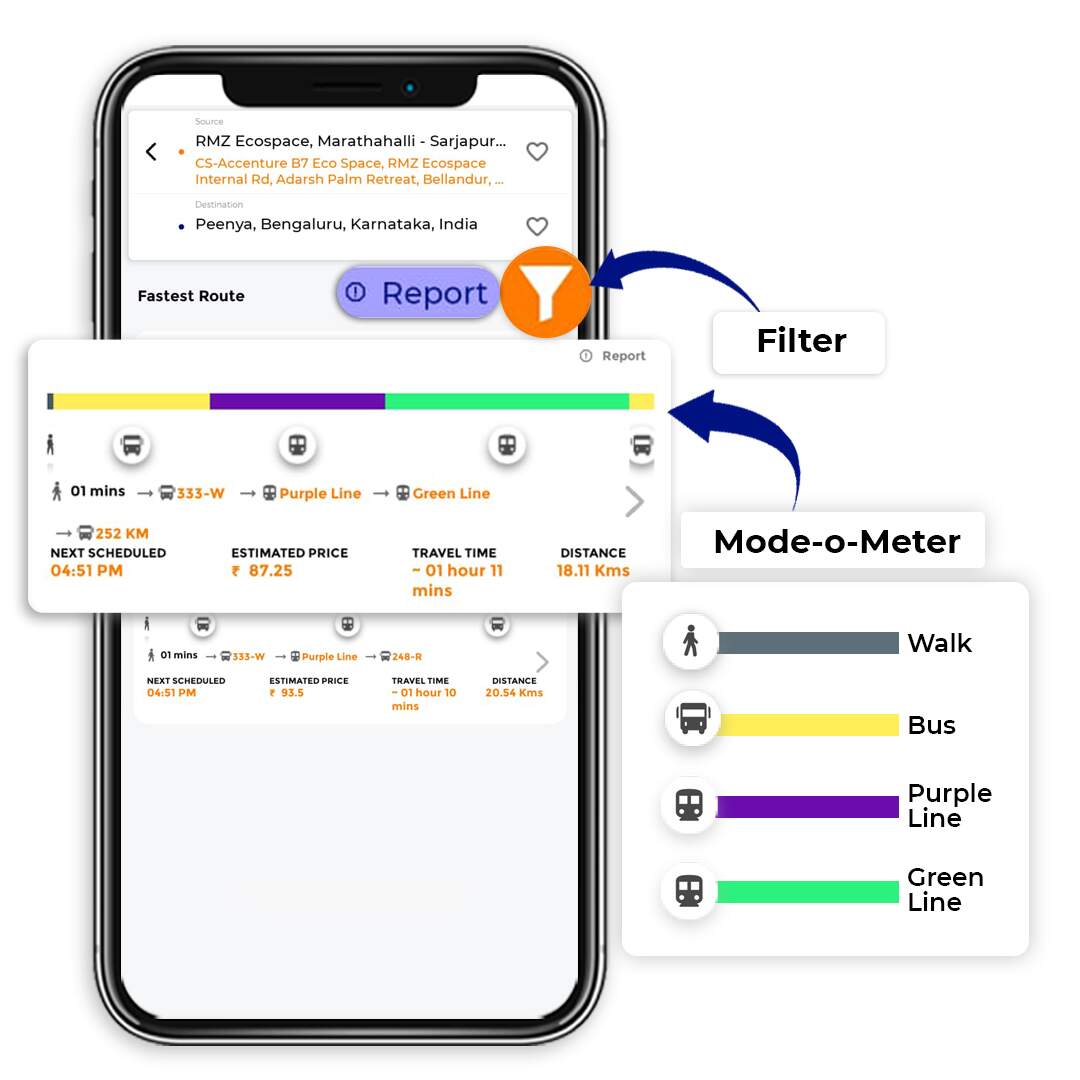 Searching for metros based on your location
If you're travelling from RMZ Ecoscape to Peenya, here's what you'll have to do:
Enter your source and destination. To make location mapping more accurate, we've tied up with what3words. 
You'll see two options in front of you.
Tap on these options to get a detailed view of that route. The detailed view shows your entire route laid out on the map, and a breakdown of your entire commute. You'll also be able to see a full schedule of the metros on your route. 
All you have to do is pick the option that makes more sense for you, and head out!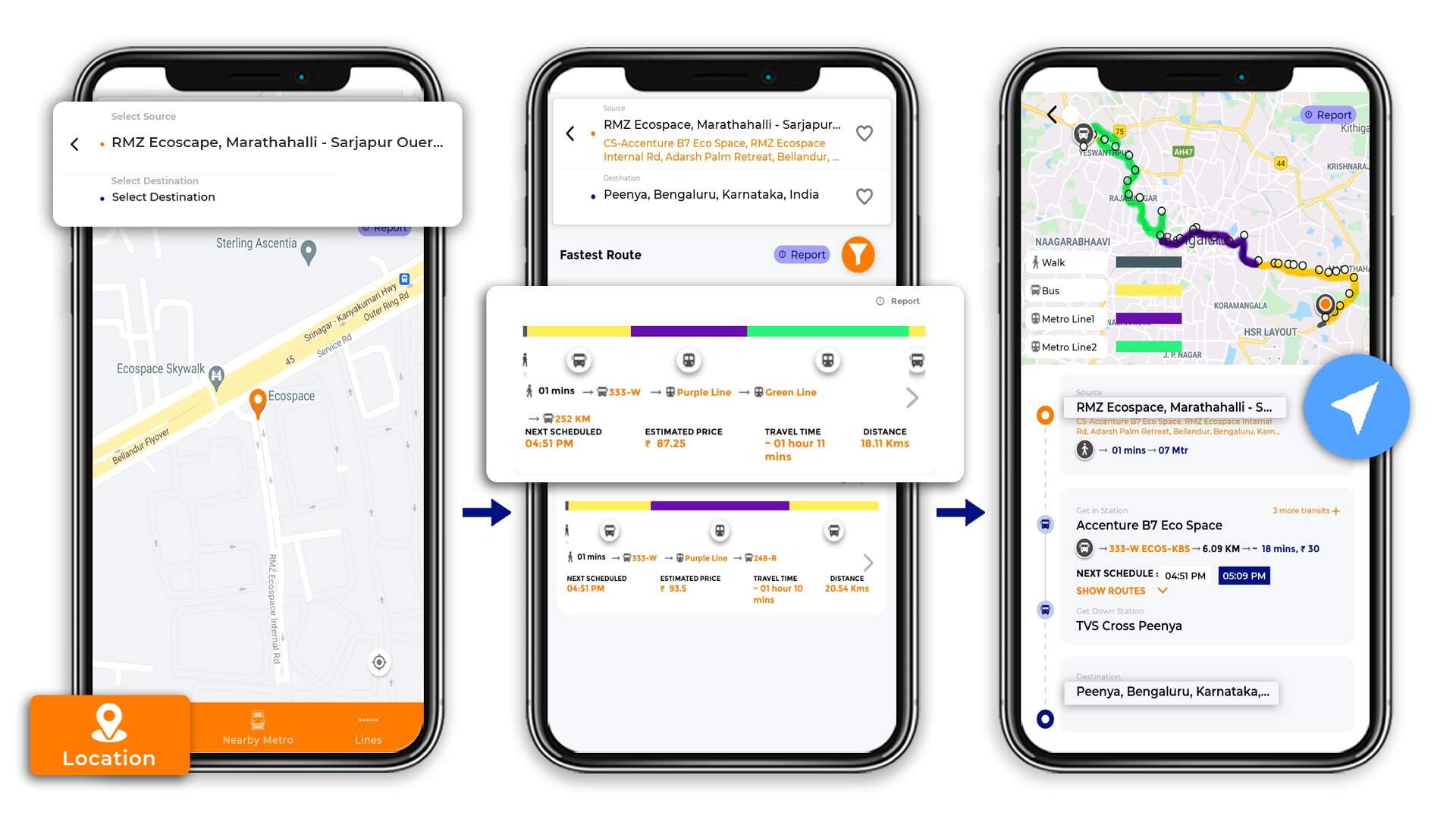 Searching for metros based on nearby metros
When you tap on this option, you'll see your nearby metro stations and timings listed at the bottom. 
You can also enter a source metro station and a destination metro station. 
Let's say you're travelling from Baiyapapanahalli Metro Station to Jayanagar Metro Station. 
Once you enter this in, you'll see two options in front of you. The first one involves only the metro, but you'll be switching from the purple to the green line. In the second option, you'll be travelling by bus as well as the metro. 
If you'd like to know more about a route,  tap on it to see the detailed view.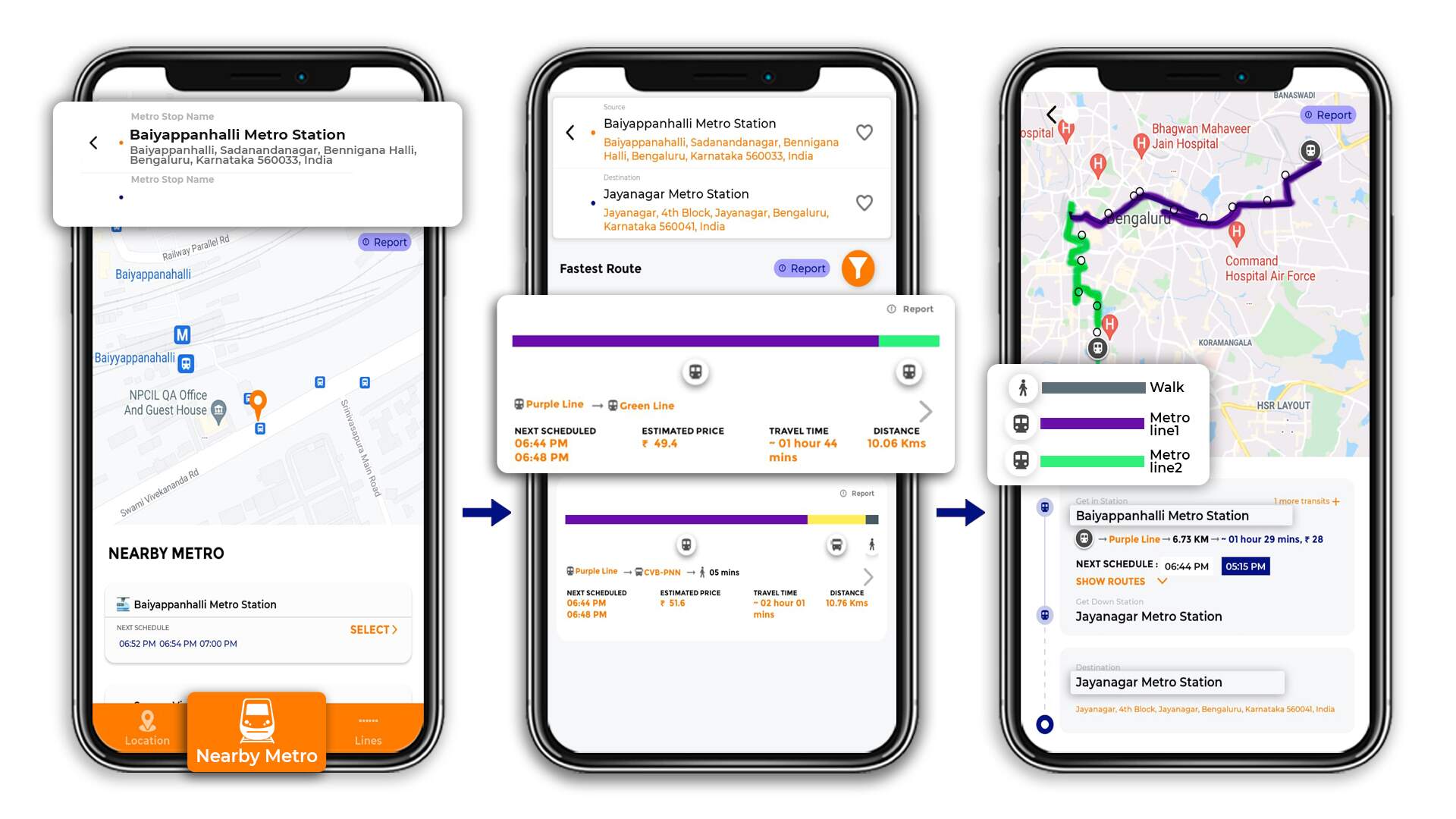 Searching for metros based on the metro line
By default, you'll see the metro lines listed at the bottom of your screen. You can tap on one to see all the stations on that line as well as the schedules. 
You can also enter a metro stop name on the top of your screen. 
Once you select a line & station, the app will show you how to reach your current location from that station. 
Here, we've chosen the Banashankari Metro Station, and we've set our current location to MG Road.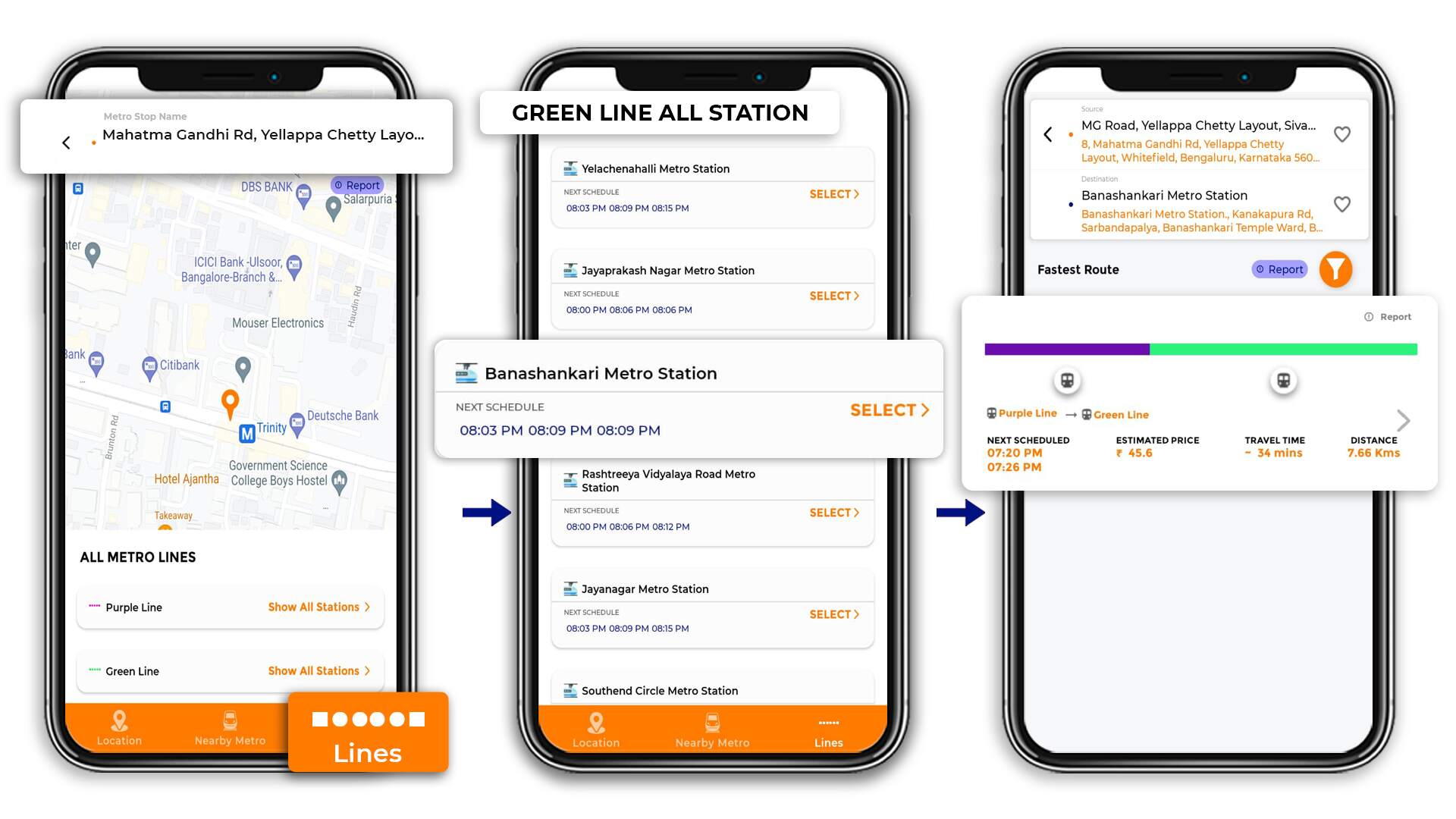 And that's how simple it is to find information on the Bangalore Metro on Tummoc!
Make sure to download the Tummoc App to make your life easier 🙂
In the comments below, let us know what kind of content you'd like to see from us in the future!